Sadali,
famous for numerous springs rising in its environment and for the flora surrounding it: Woods of oaks, holm oaks, common oaks and the shrubs of the Mediterranean macchia.
Situated on the elevated plain between the Mount Santa Vittoria, the Flumendosa Lake, the cascades Su Stampu de su Turnu (also named Turrunu) and the stalactite cave Is Janas, Sadali offers peace and quietness to its citizens.
On its territory you will find: The Zia Crammela museum, exposing different clothes of Sardinian culture beside original objects of daily use from Sardinia's former inhabitants; the ruins of the primary Sadali (the town was founded in the XVII. century AD); the San Valentino church (in its interior an old roman furnace was excavated) and the Sant'Elena Church (a church in roman style).
The area, full of karst formations, is famous for the cavern Su Fossu de Margiani Ghiani, a 15 meter high entrance, sheltering the entrance to a grotto which is extended for several meters.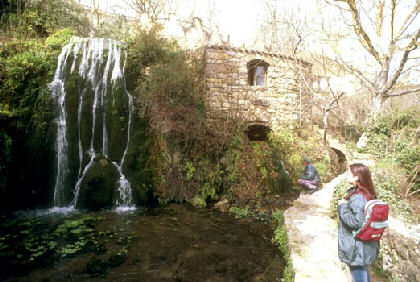 click on the arrows to move the pictures